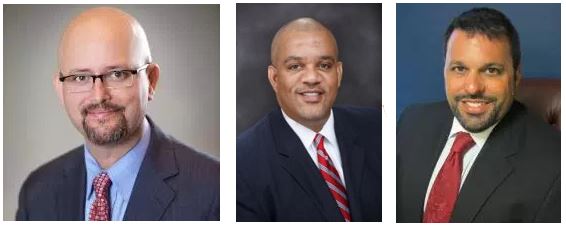 We are so lucky to have Eddie Stephens, William Foman and Cory Strolla as co-chairs for our Grow Program
Stephens, Foman and Strolla, in addition to a number of day chairs and Grow Program volunteers, will lead students through a nine month program where they will gain real-life experience by having unparalleled access to leaders from businesses, government agencies, and civic organizations. Leadership Grow class members meet one day a month, from September to May.
Stephens hand picked his co-chairs and is confident this will be a fantastic year.  "I have known Bill for over 15 years.  We spent many years leading a Scout troop together.  I have known Cory since competing against him in trial competitions in law school 23 years ago.  I believe I have assembled a team that will create a unique environment for the best students in Palm Beach County to refine their leadership skills and as they spend 8 days with us over the school year exploring regions outside their typical comfort zone. We are also very pleased to be working with Melissa Gaynor, the first LPBC employee focused solely on our programming and the proven leadership of our Executive Director, Noel Martinez".