Leadership Palm Beach County (LPBC) uses a variety of online platforms and tools to bolster awareness of the organization's community programs, engage alumni in ongoing dialogue, and help local leaders organize and take action.
Social media sites, such as Facebook and LinkedIn are especially useful to alumni who want to maintain the camaraderie and develop professional connections made during the course of their Leadership Program.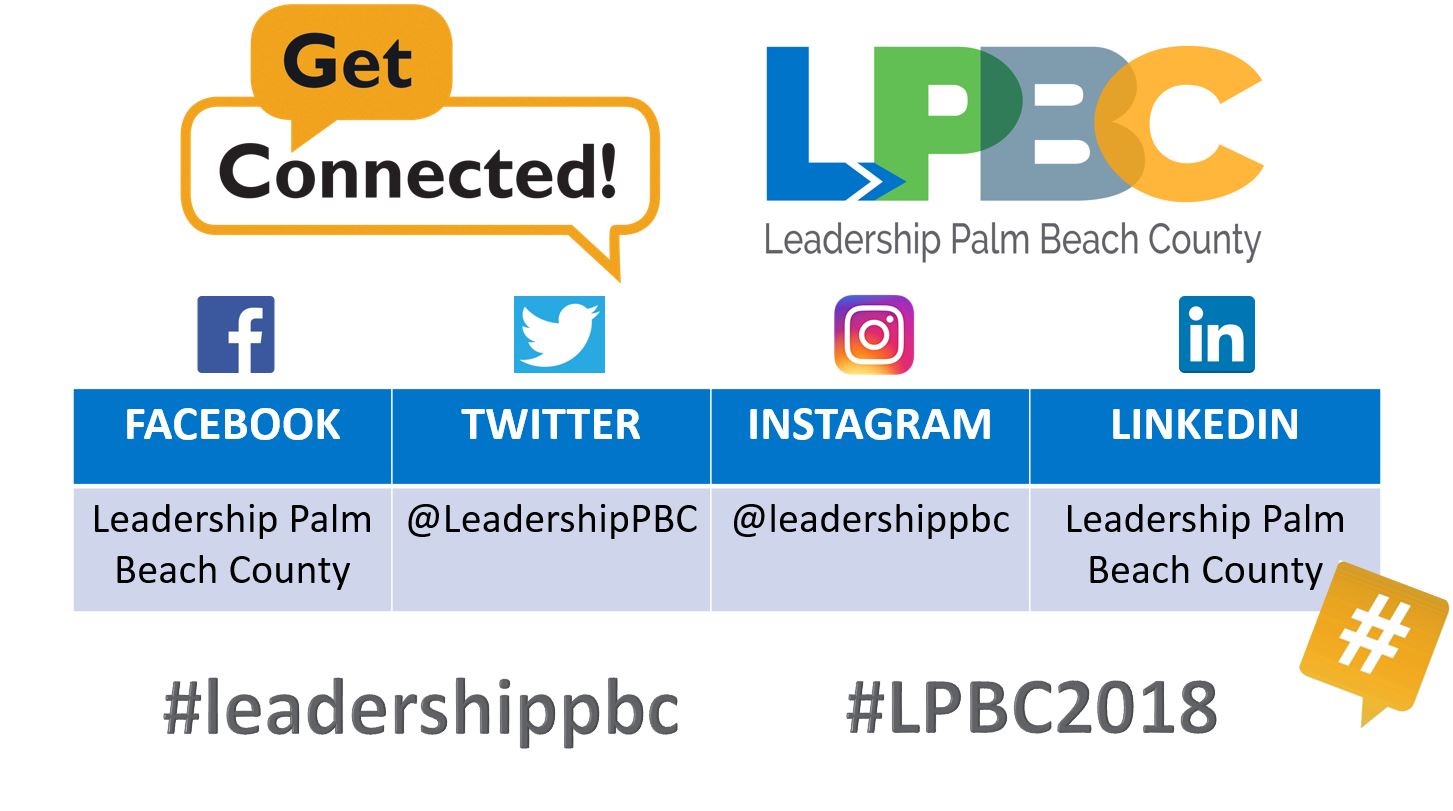 LPBC has established public pages as well as private groups to facilitate ease of communication: 
Facebook: www.facebook.com/LeadershipPBC
Linked In: Leadership Palm Beach County 
Twitter: @LeadershipPBC
Instagram: leadershippbc 
LPBC is not responsible for the viewpoints, opinions and actions expressed in comments online. Individual posts do not reflect any official policies of LPBC, and injurious or abusive content will be removed.
Our goal is to provide an online community where a diverse group of people who share an interest in Leadership Palm Beach County can express themselves, share information, and interact with one another. LPBC reserves the right to use any messages or stories in other LPBC marketing material.
Please review our online community guidelines regarding your responsibilities and LPBC's role in the community.
Be Respectful
Healthy disagreement and debate helps our community grow, but personal insults will be removed from online pages.
 
Protect Your Privacy
Comments online may be visible to the general public. Protect your privacy and do not give out personal information such as email addresses, telephone numbers or street addresses.
 
Keep Your Comments on Topic & Timely
LPBC's focus for online communities is about our leadership programming, alumni, and relevant news.
We welcome discussion about LPBC-related programs, events and news.
Self-promotion for business or other reasons is not consistent with our desired content and will be removed.

Links to Other Web Sites
LPBC is not responsible for the content of any linked website or any changes or updates to such websites. The inclusion of any link does not imply endorsement by LPBC.
In addition, please be aware that LPBC is not responsible for the privacy practices of other websites.
 
Who to Contact with Questions
Any questions regarding Leadership Palm Beach County's online content and social media can be emailed directly to Events & Marketing Coordinator, Marlee Brannock at Marlee@LeadershipPBC.org.