Drive-Through Holiday Breakfast
Presented By Roger Dean Chevrolet Stadium
Thursday, December 17, 8am
South Florida Fairgrounds
The Leadership Palm Beach County Holiday Breakfast is a magical way to start the holiday season - LPBC alumni and friends of the organization gather in one place to celebrate the holidays and give back to the community through a toy drive.  
To keep everyone safe while still celebrating the season together, this year's event will be a Drive-Through Holiday Breakfast, which will feature:
a drop off point for your donated toys & gift cards for kids supported by several local PBC Charities
a grab & go breakfast
an area to park for a "tailgate style" socially distant breakfast
a holiday car decorating contest with fun prizes
an online auction -

LIVE, Shop Now!

a brief program
Don't miss this unique opportunity to gather with your LPBC friends, enjoy the holiday season, and give back to the community!
Natalie M. Alvarez ('18), Cara Biggs ('20), Jessica Clasby ('20) and Denise Mariani ('17) are the co-chairs of this event.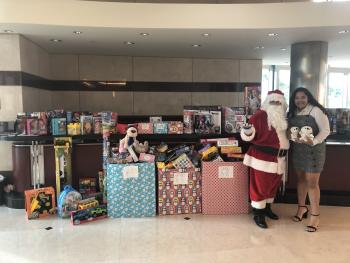 Reserve Your Spot!
Admission ticket: $50/person
Show your support of LPBC by becoming an Angel Sponsor! Your $150 Angel Sponsorship includes:
Your ticket to the Drive-Through Breakfast ($50 value)
Your name or business name listed as an Angel Sponsor on the ticketing website
Your name or business name recognized as an Angel Sponsor during the event 
Become a Sponsor
Take advantage of this opportunity to get in front of 200 Palm Beach County leaders and influencers "almost" in person. Click below to learn more about our sponsorship opportunities. 
Presenting Sponsor

Gift Drive Sponsors
Star Sponsor

Angel Sponsors
Amy Brand, LPBC 2018
Barbara James
Barbara LeBrun SIOR
The Blomeke Family
BrandStar
Cagnet Myron Law
CDM Smith
Christine Pitts, Toshiba
Daszkal Bolton, LPBC 2017
Deluge Biotechnologies
Denise Mariani, LPBC 2017
Elisha Roy, LPBC 2017
Fabiana DesRosiers, LPBC 2019
Foresight Communications
Forming Brands
Gardens Dermatology & Cosmetic Surgery Center
Gregg Weiss
Jessica Cecere
Jessica Clasby
Julie Kime
Keely Gideon-Taylor, LPBC 2014
Key Private Bank - Natalie M. Alvarez
Lee B. Gordon, Board Certified Real Estate Attorney
Mariaca Wealth Management, LLC
Mark M. Rubin, Colliers International
Palm Beach Accounting and Financial Services LLC - Silvia Evans, CPA - Class of 2014
Palm Beach First Financial & Mortgage Co./Eric Lieberman
The Pang-Herbert Family
Quantum House
Ryan Swenson - Edward Jones
Strolla Law
Top Tier Leadership - Rita Barreto
Velocity Community Credit Union
Vicki Chouris, LPBC 2010
Virginia Spencer, Illustrated Properties