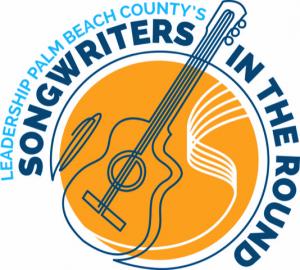 Songwriters in the Round
Friday, March 4, 2022
6pm - 9pm
South Florida Fairgrounds Open-Air Agriplex
Songwriters in the Round (SITR) is the hottest ticket in town. This popular concert features performances by Grammy Award-winning songwriters from Nashville, performing their chart-topping hits "in the round." 
Over the last 18 years, 30+ 'rock star' songwriters/musicians have graced our stage. They have excited us, inspired us, and won our hearts. Proceeds from this event help cover the cost of our Leadership Grow program, which allows 40-50 young leaders to learn about Palm Beach County and how to make a difference. 
For this year's event, we will be returning to the South Florida Fairgrounds Agriplex on Friday, March 4, 2022. Guests will enjoy a delicious dinner by Smokin' Gator BBQ, an open bar, and an intimate performance by four amazing songwriters.
Join Us!
Secure a Sponsorship.
Tables at Songwriters in the Round 2022 are now available through sponsorships. Take a look at our sponsorship opportunities to see what might be best for you. To secure a sponsorship, please email Millie@LeadershipPBC.org. 
The History of Songwriters in the Round
The Class of 2004 was told: "Think about the impact that you can make on a nonprofit organization and choose the project that you can call your legacy.  We challenge you to affect change that will forever put your imprint on Leadership Palm Beach County, its alumni and our entire community."
And that's what they did. Thanks to the class of 2004, we have an incredible signature event that continues to support our organization and our Leadership Grow program.