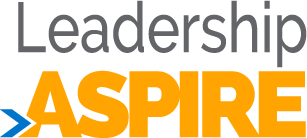 Leadership Aspire is a program offered by Leadership Palm Beach County (LPBC) based on a community needs assessment conducted in December 2015.  This program is being provided as a service to the community to create a pipeline for leaders based on the mission of LPBC to educate and unite leaders to build a better community.
Aspire includes quarterly 4-hour workshops presented on themes such as leading with emotional intelligence, presentation skills with a focus on effective public speaking, conflict resolution, and cultural competence.  Workshops focus on leadership training and include aspects for the individual (self-awareness/self-management), team (as a team member and team leader), and manager for the up and coming leader.  
Cost of the Program
Per Session
$195 – Early Bird
Early bird rate for individuals who register before deadline
$195 – Supporting Organization
Rate per individual, if two or more individuals are registering from a single organization
$250 – Standard Session
Individual registration for one Aspire session
All Sessions (4)
$700 – Series Package
Rate per individual registering for all four sessions
Location:
Keiser University
2085 Vista Pkwy, West Palm Beach, FL 33411
Room 105

8 a.m. - 12 p.m.

Continental Breakfast and light snacks will be provided at each session
---
Session One
September 21, 2018- Lead with intelligence
SOLD OUT
Facilitator: Rita B. Craig, SHRM-SCP, CSP, President of Top Tier Leadership
---
Session Two
November 9, 2018 - Fostering employee commitment
SOLD OUT
Facilitator: Christine Stiller, President & CEO of New Horizons Coaching & Consulting
---
Session Three
March 22, 2019 - Dealing with Challenging people          
SOLD OUT
Facilitator: JoAnn Jackson, President & CEO of Four Points Learning
---
Session Four
may 17, 2019 - Presentation skills
SOLD OUT
Facilitator: Mark Busse, Director of Executive & Corporate Communication at NextEra Energy, Inc. 
---
THANK YOU to our Series Sponsor: