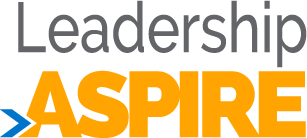 The mission of Leadership Aspire is to educate people who aspire to become better leaders.
Leadership Aspire is a program offered by Leadership Palm Beach County (LPBC) based on a community needs assessment conducted in 2015.  This program is being provided as a service to the community to create a pipeline for leaders based on the mission of LPBC to educate and unite leaders to build a better community.
Aspire includes workshops presented on themes such as leading with emotional intelligence, presentation skills with a focus on effective public speaking, conflict resolution, and cultural competence.  Workshops focus on leadership training and include aspects for the individual (self-awareness/self-management), team (as a team member and team leader), and manager for the up and coming leader.  
This year's series of workshops will be held at CareerSource Palm Beach County, 3400 Belvedere Road, West Palm Beach. We hope you will join us! Please see below for registration information. 
Cost of the Program
Standard Individual Pricing: $225
Price for one individual registering for one session
Series Package: $550
Price for one individual registering for all three sessions
Supporting Organization Pricing 
Price per seat for multiple individuals from single organization to attend any of the three sessions
2-4 seats: $200/seat | 5-9 seats: $175/seat | 10+ seats: $150/seat
To purchase a series or group package, please contact Brooke Cantwell, LPBC Programs Manager, at brooke@leadershippbc.org. 

*No refunds on registrations.
---
Session 1 | Managing Stress in the Workplace
September 17, 2021 | 8:30am - 12:30pm
CareerSource Palm Beach County | 3400 Belvedere Rd, West Palm Beach, FL 33406
Facilitators: Pablo del Real & Erinn Beck, MS, LMHC, The Way
SOLD OUT!
---
Session 2 | The Value of Influence & Negotiation
November 5, 2021 | 8:30am - 12:30pm
CareerSource Palm Beach County | 3400 Belvedere Rd, West Palm Beach, FL 33406
Facilitator: Tessie Watts, M. Sc., The Leadership Haven Resource Center LLC
---
Session 3 | The Power of Presentations: Skills for Effective Public SPeaking
February 18, 2022 | 8:30am - 12:30pm
CareerSource Palm Beach County | 3400 Belvedere Rd, West Palm Beach, FL 33406
Facilitator: Rita Barreto, Top Tier Leadership
---
THANK YOU to our Series Sponsor: