Leadership Palm Beach County Announces Engage Class of 2024 Participants
Leadership Palm Beach County Announces Engage Class of 2024 Participants
Fifty-five local leaders selected for esteemed program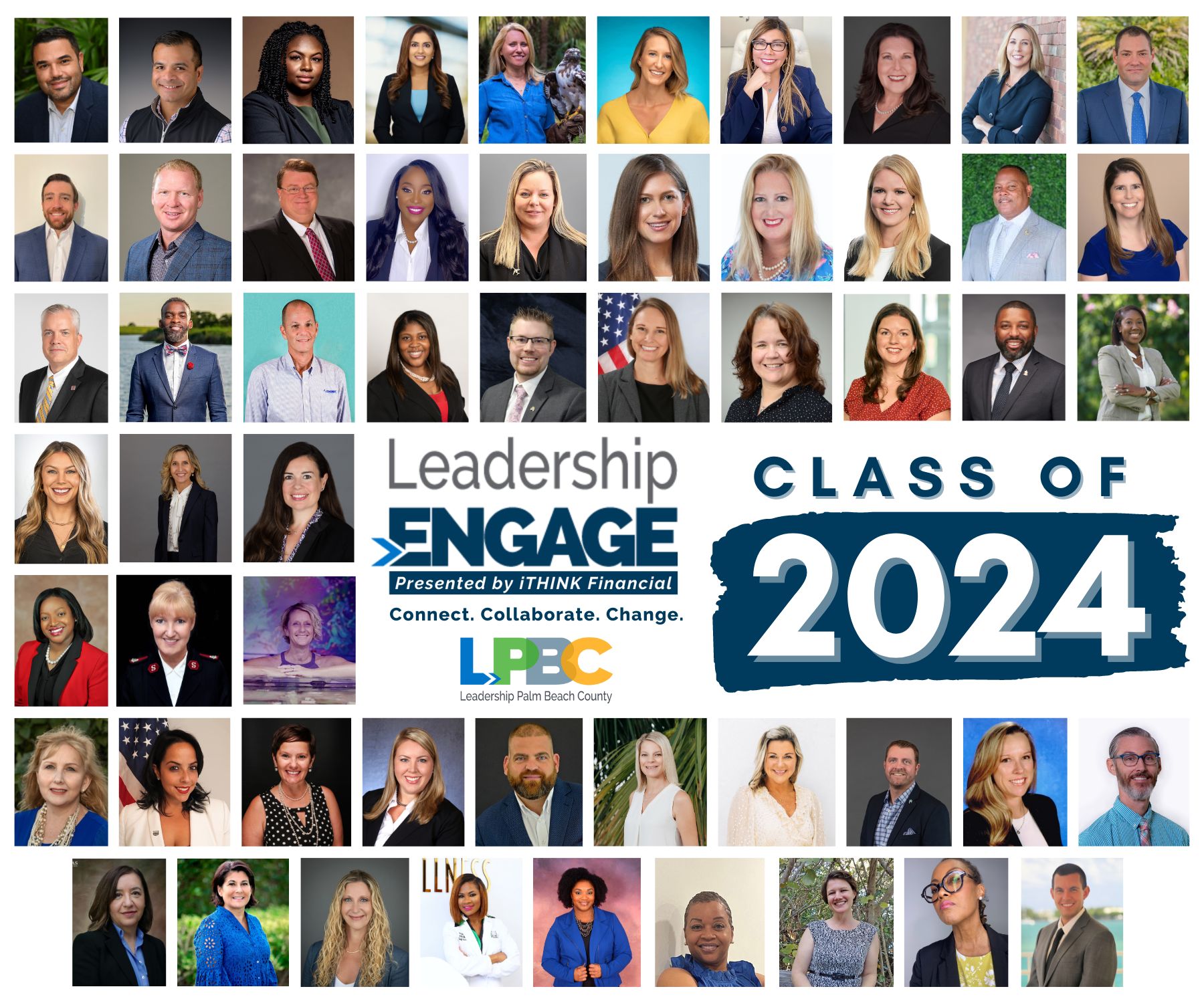 (WEST PALM BEACH, FL) July 19, 2023 – Fifty-five esteemed professionals have been accepted into the 2023-24 Leadership Engage Program, Leadership Palm Beach County's flagship program. Leadership Engage, presented by iTHINK Financial, is a highly selective 10-month program which unites community leaders and offers participants a transformative learning experience and a powerful network, with the intent to better Palm Beach County.
Participants, who come from diverse industries and backgrounds, will gain a deeper understanding of their own leadership styles as well as understand the ways in which they can make significant improvements in the community.
The 55 class members were selected for their leadership and service in their professional and civic lives. They will meet each month from September through May to explore program topics such as agriculture, education, public safety, and healthcare. Class members will also divide into smaller groups and work on their chosen "Engage Forward" projects, the Leadership Palm Beach County civic engagement initiative benefiting local non-profits and aimed at tackling challenges facing the region.
The mission of LPBC is to educate and unite leaders to build a better community, and the 55 new class members look forward to furthering this mission. See the full list of Engage Class of 2024 participants below.
Leadership Engage Class of 2024
Lavern Blackwood, MCO Construction and Services, Inc.
Taraneisha Burgess, APRN, FNP-C, Vital Vita Wellness
Natalie Carron, Economic Council of Palm Beach County, Inc.
Akhil Chhabra, Monolith, Inc.
Kiley Damone, FINFROCK
Samira H Daroub, UF/IFAS Everglades Research and Education Center
Maylee De Jesús, City of Boynton Beach
Wanita Dixon, Technical Creative Consulting LLC
Julie Dowe, Palm Beach County-Community Services Department
Jeffrey Fine, iTHINK Financial
Leneita Fix, The Reef Institute
Dymond Franklin, MBA, IBM
Veronica Frehm, Friends of MacArthur Beach State Park
David R. Glickman, The Markarian Group
Zack Greenberg, Florida Power & Light Company
Valerie Ware Grimsley, City of Riviera Beach
Jason Hagensick, YMCA of South Palm Beach County
Major Leisa Hall, The Salvation Army
Danielle M. Hanson, Hanley Foundation
Dana Herst, Esq., United Way of PBC
Derrick E. Hoskins, K & M Electrical Supply, Inc.
Amelia N. Jadoo, Weiss Serota Helfman Cole + Bierman
Amy Kight, Busch Wildlife Sanctuary
David Killian, Palm Beach County Youth for Christ
Kenyon L. Link, Community Partners of South Florida
Alexis Lockhart, Police Athletic League, West Palm Beach Inc.
Bree Gordon Lukosavich, Creative Arts Therapies of the Palm Beaches
Ahmad Mayes, Chamber Music Society of Palm Beach
Dr. Jolande Morgan, School District of Palm Beach County
Raymond Morse, The Lord's Place
Doug Mosley, The Walt Disney Co./ESPN/ESPN Events
Ilene Passler, Cheney Brothers, Inc.
Emory Payne, Palm Beach County Sheriff's Office
Lauren Perry, Cultural Council for Palm Beach County
Stephanie Rohm Quirantes, Nothing Bundt Cakes & Meyer Lucas Team at Compass 
Elizabeth Rochaine, FACHE, Wellington Regional Medical Center
Elizabeth "Fergy" Ronayne, Mackenzie Management, LLC
Claudia Ruiz Levy, CRL Media LLC
Melissa Schulte, Northern Trust
Stephanie Slater Goldfuss, Lesser, Lesser, Landy & Smith, PLLC
Julia Spence, West Palm Beach VA Healthcare System
Melinda Springman-Herrera, School District of Palm Beach County
Emily Starkey, Bernstein Private Wealth Management
Lisa Stella, The Learning Center
Pilar Forero Taylor, Florida Atlantic University/FAU Lab Schools
Kimberley Trombly-Burmeister, Baptist Health South Florida
Peter Troup, NFP
Josh Vandagriff, Wells Fargo Commercial Bank
Ellen Vaughan, Center for Family Services
Katie Walsh Edwards, Max Planck Institute for Neuroscience
Tessie Watts, The Leadership Haven Resource Center LLC
Jeffrey Willis Jr., Muck City Angler LLC
Khadeidra "KD" Willis, Florida Legislature, Senator Lori Berman District 26/ #WORK21, LLC
Molly Young, Doug Watt, Inc. & Village of Tequesta
Michael Zeff, Palm Beach County Sports Commission
About Leadership Palm Beach County
Leadership Palm Beach County, Inc., is an educational 501(c)(3) nonprofit organization designed to foster awareness of community issues and promote efficient communication and cooperative relationships between existing and emerging community leaders. LPBC's stated mission is to educate and unite leaders to build a better community. Initiated in 1983 through a collaborative effort of the local Chambers of Commerce, LPBC has prepared nearly 3,000 adult and youth graduates for enhanced community leadership roles. Learn more about LPBC at: LeadershipPBC.org.