Leadership Palm Beach County Announces 2022 Leadership Excellence Awards Nominees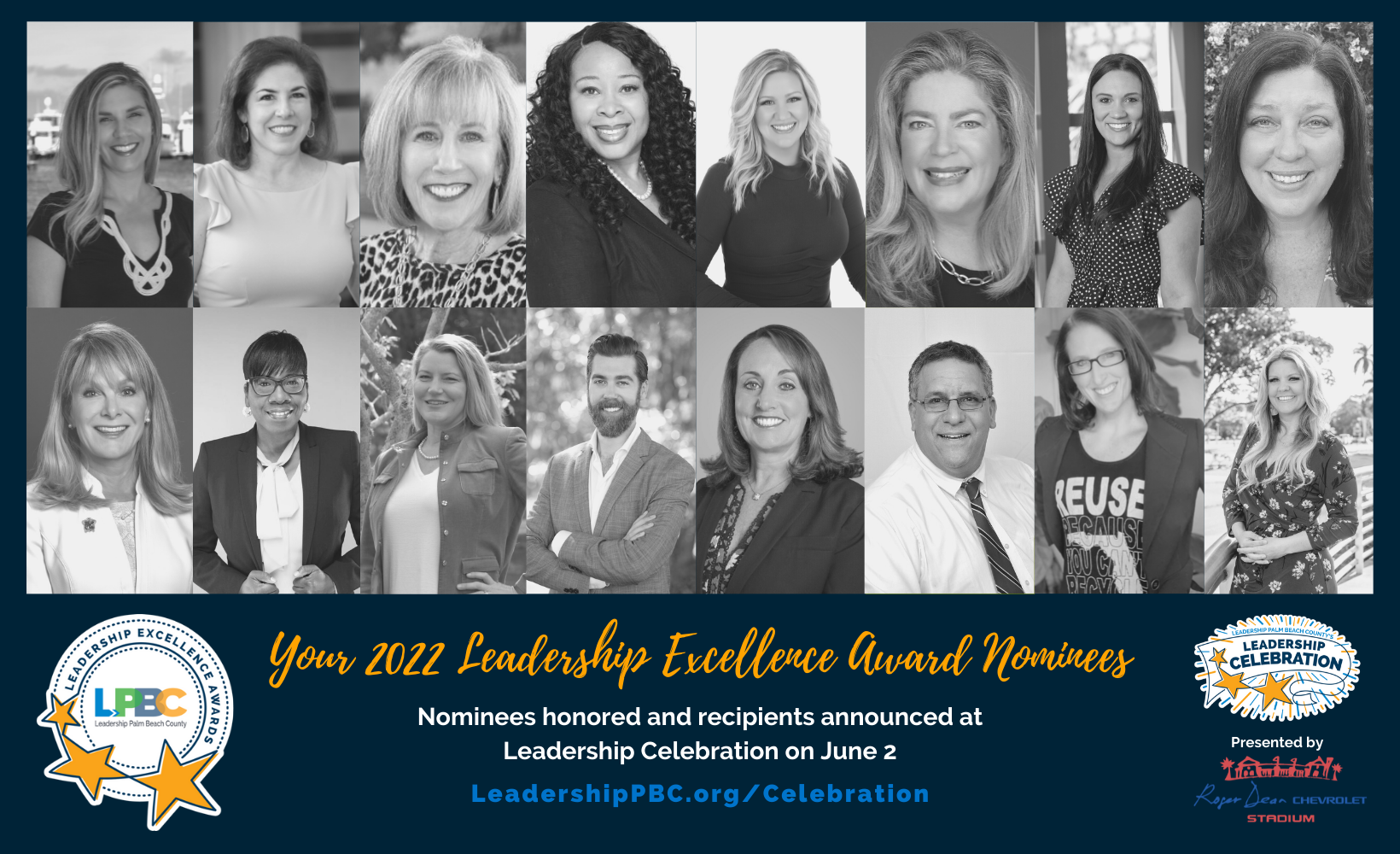 Nominees Announced for 2022 Leadership Excellence Awards
Awards Presented by Leadership Palm Beach County Celebrate Alumni who "Connect, Collaborate, and Change."
(WEST PALM BEACH, FL) March 11, 2022 – Leadership Palm Beach County (LPBC) has announced the nominees for its 2022 Leadership Excellence Awards (LEAs). The LEAs recognize exceptional LPBC Alumni who have made significant contributions to improve our community. All nominees have been noticed by their colleagues for upholding LPBC's core values of "connecting, collaborating, & changing" the community around them.
Three Leadership Excellence Awards will be given to individuals in each of the non-profit, public, & private sectors. The nominees for this year's LEAs are as follows:
In the Non-Profit Sector:
Alyssa Freeman, Marine Industries Association of Palm Beach County
Amy Brand, Philanthropy Tank
Beverlee Raymond, Extraordinary Charities
James Gavrilos, Education Foundation of Palm Beach County
Jennifer O'Brien, Resouce Depot
Kate Arrizza, Cox Science Center and Aquarium
Katie Spitzig, Junior Achievement of the Palm Beaches & Treasure Coast
In the Public Sector:
Chelsea Reed, City of Palm Beach Gardens
Jennifer Cirillo, Palm Beach County Parks & Recreation
Katrina Long-Robinson, City of Westlake
Rob Long, Palm Beach Soil & Water Conservation District
Shannon Ramsey-Chessman, Clerk of the Circuit Court & Comptroller Palm Beach County
Dr. Tunjarnika Coleman-Ferrell, Palm Beach State College
In the Private Sector:
Emily Pantelides, Pantelides PR & Consulting
Michelle Diffenderfer, Lewis, Longman & Walker, P.A.
Lee Williams, Addison Appraisal, Inc.
Nominees will be honored and recipients will be announced at Leadership Celebration, presented by Roger Dean Chevrolet Stadium, on June 2 at the Kravis Center for the Performing Arts. Leadership Celebration is a community event and welcomes attendees from outside the Leadership Palm Beach County Alumni base. For more information about the event, including ticket and sponsorship opportunities, please visit LeadershipPBC.org/Celebration.
About Leadership Palm Beach County
Leadership Palm Beach County, Inc., is an educational 501(c)(3) nonprofit organization designed to foster awareness of community issues and promote efficient communication and cooperative relationships between existing and emerging community leaders. LPBC's stated mission is to educate and unite leaders to build a better community. Initiated in 1983 through a collaborative effort of the local Chambers of Commerce, LPBC has prepared nearly 3,000 adult and youth graduates for enhanced community leadership roles. Learn more about LPBC at LeadershipPBC.org.
###