Leadership Palm Beach County Announces 2023 Leadership Excellence Award Nominees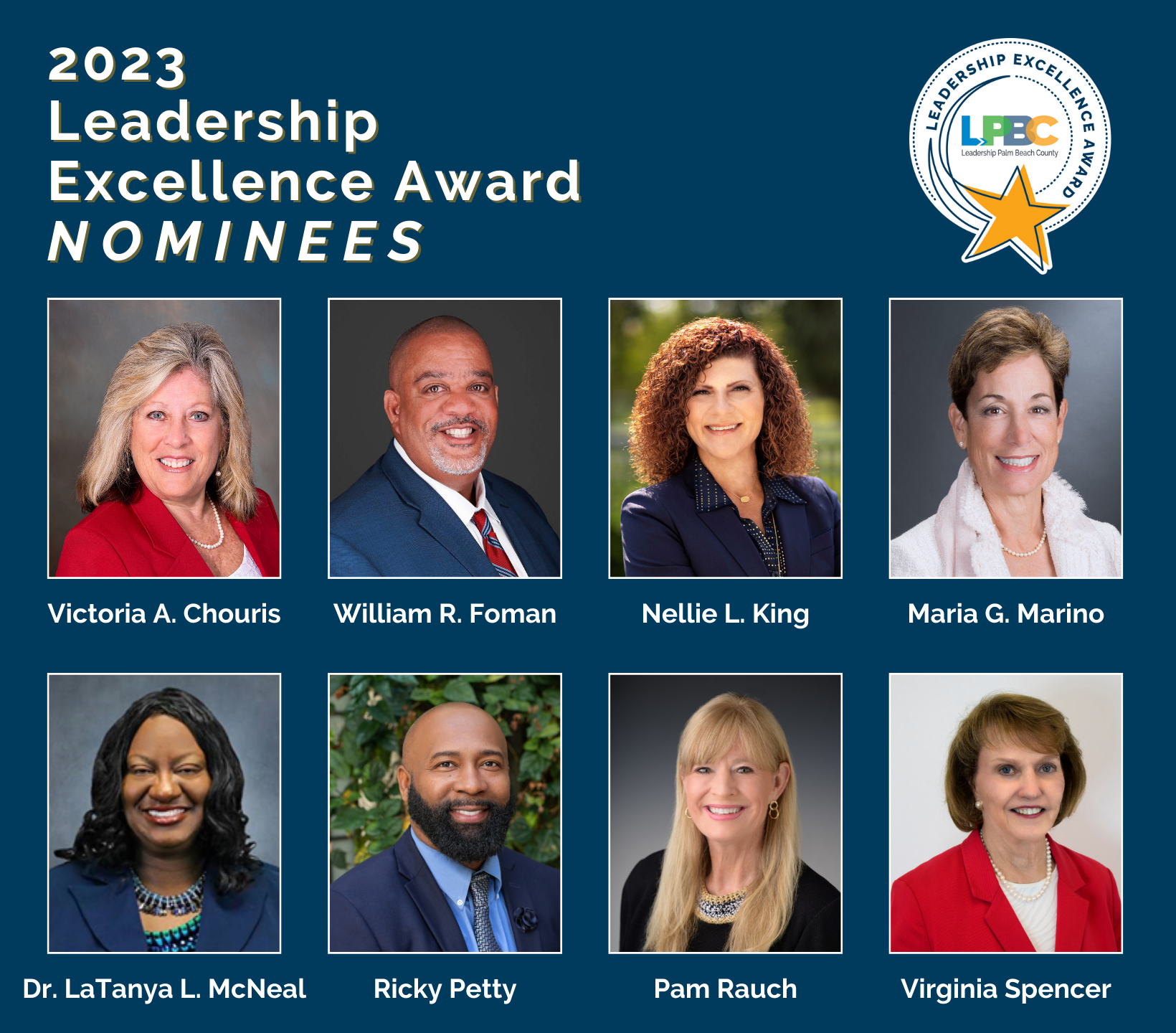 Nominees Announced for 2023 Leadership Excellence Award
Award to be Presented to a Leadership Palm Beach County Alum who personifies the core values to "Connect, Collaborate, and Change."
(WEST PALM BEACH, FL) March 23, 2023 – Leadership Palm Beach County (LPBC) has announced the nominees for its 2023 Leadership Excellence Award (LEA). The LEA recognizes an exceptional LPBC Alum who has made significant contributions to improving our community. All nominees have been extolled by their colleagues for exemplifying LPBC's core values of "connecting, collaborating, & changing" our community.
The nominees for this year's Leadership Excellence Award are as follows:
Victoria A. Chouris, President/CEO, South Florida Fair & Palm Beach County Expositions, Inc.
William R. Foman, Attorney, Williams, Leininger, & Cosby, P.A.
Nellie L. King, President, National Association of Criminal Defense Lawyers, & Owner, Law Offices of Nellie L. King, P.A.
Maria G. Marino, Commissioner, Palm Beach County District 1
Dr. LaTanya L. McNeal, Executive Dean & Dean of Student Services, Palm Beach State College
Ricky Petty, Director, Healthier Boynton Beach
Pam Rauch, Vice President, External Affairs and Economic Development, Florida Power & Light Company
Virginia Spencer, General Manager, Illustrated Properties
Nominees will be celebrated, and the recipient announced, at Leadership Celebration, presented by Roger Dean Chevrolet Stadium, on June 1 at the Kravis Center for the Performing Arts. Leadership Celebration is a community event celebrating a unique group of Palm Beach County leaders and welcomes attendees from outside the Leadership Palm Beach County Alumni base. For more information about the event, including ticket and sponsorship opportunities, please visit LeadershipPBC.org/Celebration.
About Leadership Palm Beach County
Leadership Palm Beach County, Inc., is an educational 501(c)(3) nonprofit organization designed to foster awareness of community issues and promote efficient communication and cooperative relationships between existing and emerging community leaders. LPBC's stated mission is to educate and unite leaders to build a better community. Initiated in 1983 through a collaborative effort of the local Chambers of Commerce, LPBC has prepared nearly 3,000 adult and youth graduates for enhanced community leadership roles. Learn more about LPBC at LeadershipPBC.org.
###