Leadership Palm Beach County Announces Engage Class of 2023 Participants
Leadership Palm Beach County Announces Engage Class of 2023 Participants
Fifty-six local leaders selected for esteemed program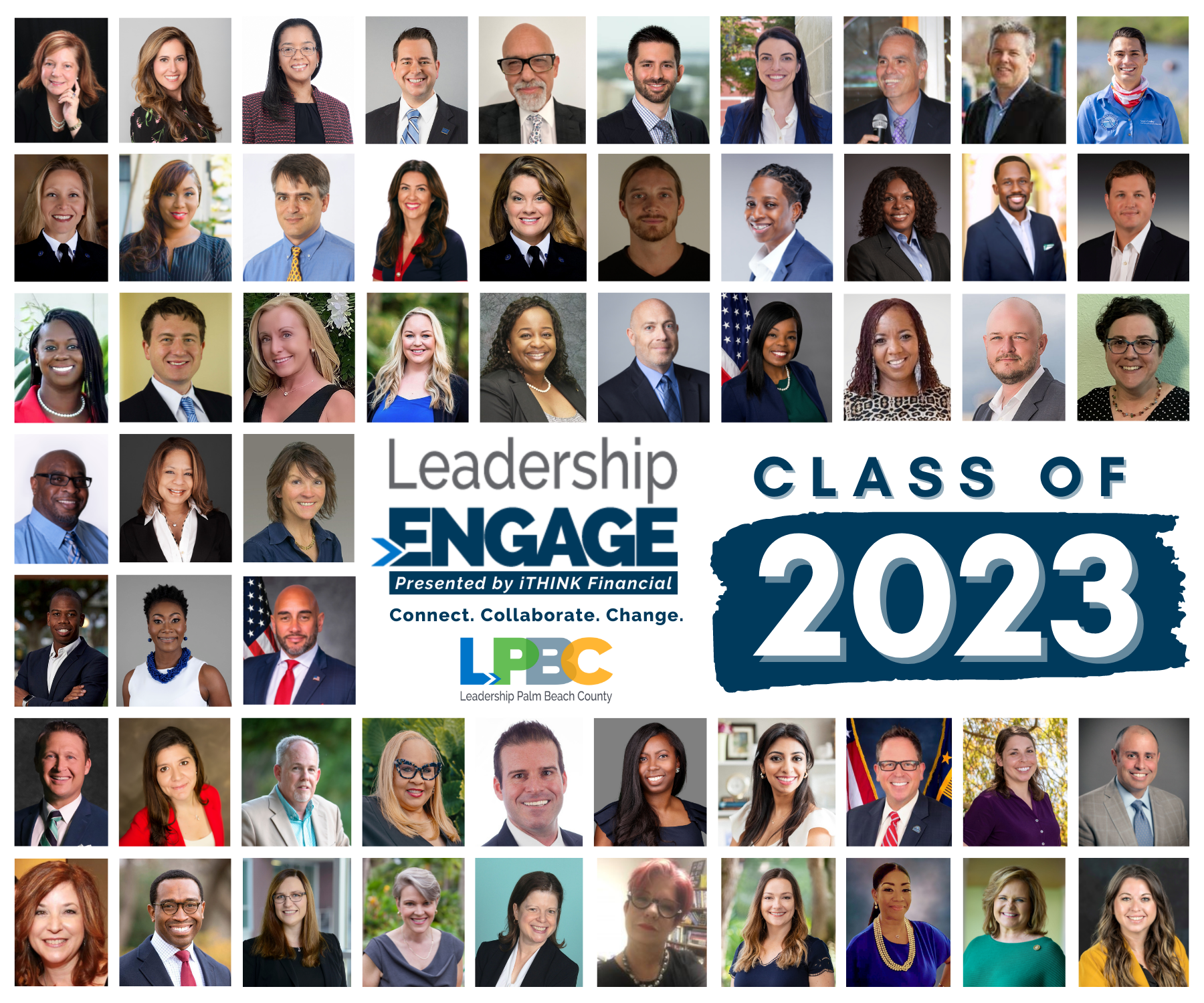 (WEST PALM BEACH, FL) July 14, 2022 – Fifty-six esteemed professionals have been accepted into the 2022-23 Leadership Engage Program, Leadership Palm Beach County's flagship program. Leadership Engage, presented by iTHINK Financial, is a highly selective 10-month program which unites community leaders and offers participants a transformative learning experience and a powerful network, with the intent to better Palm Beach County.
Participants, who come from diverse industries and backgrounds, will gain a deeper understanding of their own leadership styles as well as understand the ways in which they can make significant improvements in the community.
The 56 class members were selected for their leadership and service in their professional and civic lives. They will meet each month from September through May to explore program topics such as agriculture, education, public safety, and healthcare. Class members will also divide into smaller groups and work on their chosen "Engage Forward" projects, the Leadership Palm Beach County civic engagement initiative benefiting local non-profits and aimed at tackling challenges facing the region.
The mission of LPBC is to educate and unite leaders to build a better community, and the 56 new class members look forward to furthering this mission. See the full list of Engage Class of 2023 participants below.
Leadership Engage Class of 2023
Maria S. Antuña, Hispanic Chamber of Commerce of Palm Beach County
Melissa Arden, Jewish Federation of Palm Beach County
Isami C. Ayala-Collazo, Palm Beach County
Rolando Chang Barrero, The Box Gallery
Christian Bergstrom, Gehring Group
Dr. Vassilia Binensztok, Juno Counseling and Wellness
Adam Bregman, Shutts & Bowen, LLP
Rich Brochu, Florida Fishing Academy
Elyse Weintraub Brown, Palm Beach County Fire Rescue
Checree Bryant, Actuate Consulting, LLC
Jon Burstein, Children's Services Council of Palm Beach County
Julia Caner, Wells Fargo
Tara Cardoso, Palm Beach County Fire Rescue
Althea Largie Ceasor, Merrill Lynch
Eli Cecil, Benzaiten Center for Creative Arts
Kenyatta Connaway, Kenyatta Speaks, LLC
Paul Connell, Palm Beach County
Sean Cooley, South Florida Water Management District
Alissa Dhawan, HBK CPAs and Consultants
Dante Drummer, Community Foundation for Palm Beach and Martin Counties
Carla Duhaney, Cox Science Center and Aquarium
Jennifer L. Granger, Florida Atlantic University
Matt Hedrick, Florida Power & Light Company
Tammy Jackson-Moore, Guardians of the Glades
Cassius Johnson, Social Impact Entrepreneur
R. Audy Johnston, Keiser University
Kathleen Joy, Palm Beach North Chamber of Commerce
Dellesa Kirk-Johnson, Frenchman's Creek, Inc.
Bethany Lacey, Boys Town South Florida
Kim Lancaster, Palm Beach State College
Matt Lincoln, CBS12 News
Alex Martinez-Slaton, Team IP
Tim May, United Methodist Church of the Palm Beaches
Dr. Tomara Mays, Family Promise of North Central Palm Beach County
Raul Mercader, IOA – MDB Advisors, LLC
Telsula Morgan, Lewis, Longman & Walker, P.A.
Lisa Nisenson, WGI
JohnPaul O'Connor, City of Westlake
Calvin Phillips, The Lord's Place
Cory Price, West Palm Beach VA Healthcare System
Sheri Resnick, Working Gears, LLC
Darren Romelus, Palm Beach County Fire Rescue
Dr. Deeawn Roundtree, Roundtree Training & Consulting
Corey Saban, CS Media Works
Matt Scheer, Gunster
Becky Schnirman, Palm Beach County Parks & Recreation Department
Joyell Shaw, School District of Palm Beach County
Candi Spitz, 211 Palm Beach and Treasure Coast
Nadia Islam Spivak, The Forum Club of the Palm Beaches
Vanessa Underwood Steelman, Palm Beach County
Jeff Trynz, Jewish Federation of Palm Beach County
Shalonda Warren, City of West Palm Beach
Marvelous Washington, City of West Palm Beach
T. Denise Williams, Mo Betta Braids & Things
Aaron Wormus, SmartX Advisory Solutions
Emily Zarzycki, CROS Ministries
About Leadership Palm Beach County
Leadership Palm Beach County, Inc., is an educational 501(c)(3) nonprofit organization designed to foster awareness of community issues and promote efficient communication and cooperative relationships between existing and emerging community leaders. LPBC's stated mission is to educate and unite leaders to build a better community. Initiated in 1983 through a collaborative effort of the local Chambers of Commerce, LPBC has prepared nearly 3,000 adult and youth graduates for enhanced community leadership roles. Learn more about LPBC at: LeadershipPBC.org.
###