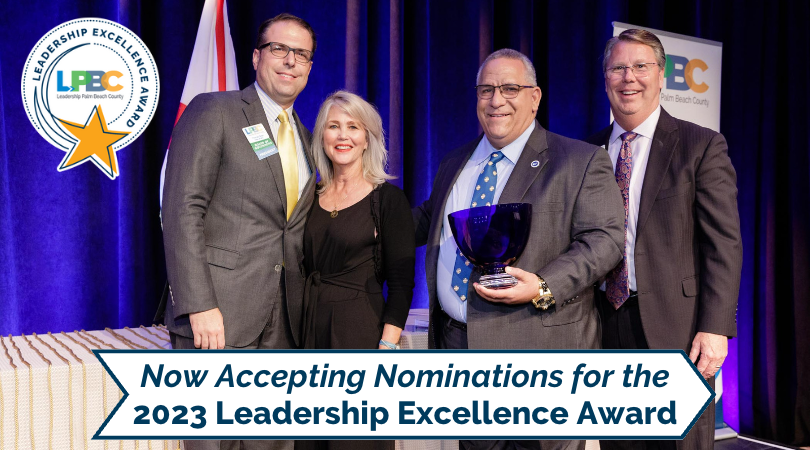 2023 Leadership Excellence Award
LPBC's Leadership Excellence Award recognizes exceptional Leadership Engage graduates who make significant contributions to improve our community. The Leadership Excellence Award celebrates individuals who are active examples of the vision and mission of Leadership Palm Beach County; recipients aspire to connect, collaborate, and change.
The Leadership Excellence Award recognizes an individual who dedicates significant time and energy to building a better community outside of their jobs. Their hard work has resulted in connections, collaborations, and ultimately positive change in our community.
All graduates of Leadership Palm Beach County are eligible for these awards with the exception of (a) candidates currently running for office and (b) current members of the Leadership Palm Beach County Board of Governors or Executive Committee. Nominations must be submitted by LPBC Alumni. We encourage you to nominate a graduate who you believe best exemplifies the actions of Leadership Excellence as defined on the last page of this form. The recipient of the award will be announced and honored at Leadership Celebration, to be held on Thursday, June 1, 2023. At this event, we will honor this year's LEA finalists, announce the 2023 LEA recipient, and celebrate the graduation of the Engage Class of 2023.
Nominations for the 2023 Leadership Excellence Award must be received by Leadership Palm Beach County by Tuesday, February 21, 2023, at 5pm. After all nominations are received, nomination forms will be shared with the nominees and nominees will be asked to submit a second form to supplement their nomination. Please comply with the instructions on the nomination form. All nominations and questions should be directed to Leadership Palm Beach County at 561-833-4321 or by email at Millie@LeadershipPBC.org.